Principal's Message for March 28th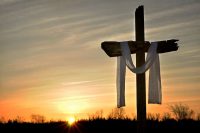 Dear families,
As we conclude the Lenten journey with our Easter celebration, it is a good time to reflect on all the blessings God has bestowed on our community. We are especially grateful for the support from all our families who volunteer their time, talents, and treasures to enrich our students' learning experiences.
The Auction on Saturday night was the culmination of months of work by our dedicated Eagle Group and volunteer parents. Whether it was taking student pictures, collecting baskets, soliciting donations, selling tickets, or decorating the Auction room, our volunteers dedicated a tremendous amount of their personal time to ensure a successful event.
Special thanks go out to Samantha Canedy, Melissa Harrington, Denise Peek, Maureen Arthur, Dee Zielinski, Crystal Botto, Jen Savant, Denise Pinnell, Elizabeth Odenthal, Laurie Abad, Eugenia Welch, Cindy Bausch, and Cathy Hall (+family). There were also numerous volunteers who helped with procurement including Candice Vredevelt, Paige Bottichelli, Denise Cordaro, and Sara Bair. They put together a wonderful and fun evening as well as raising funds for our school. Thank you also to Father Jim for donating his time for Dinner with the Pastor and Jessy Quezada for leading the Fund a Need efforts.
We appreciate not only their efforts, but all our family members who have volunteered their time as coaches, classroom helpers, room parents, event coordinators, chairpersons, art docents, as well as those who have helped with numerous tasks both great and small that come up during the school year. Thank you for everything you do to make Saint John School a wonderful learning and faith-filled environment for all students.
"And we know that all things work together for good to those who are called according to His purpose."     ROMANS 8:28
Have a safe and blessed Easter.
Dan
---