Quality catholic education since 1957
We cultivate life-long learners
Saint John the Evangelist School is a preschool through eighth grade parochial school in the Diocese of San Diego, and is the parish school for the community of Saint John the Evangelist Catholic Church of Encinitas, CA.
Our school is accredited through the Western Association of Schools and Colleges as well as the Western Catholic Educational Association.
The mission of Saint John School is to provide our students with a Christ-centered environment that empowers them to achieve their highest academic potential, gain a thorough understanding of the Catholic faith, and share Christ's love through Christian action.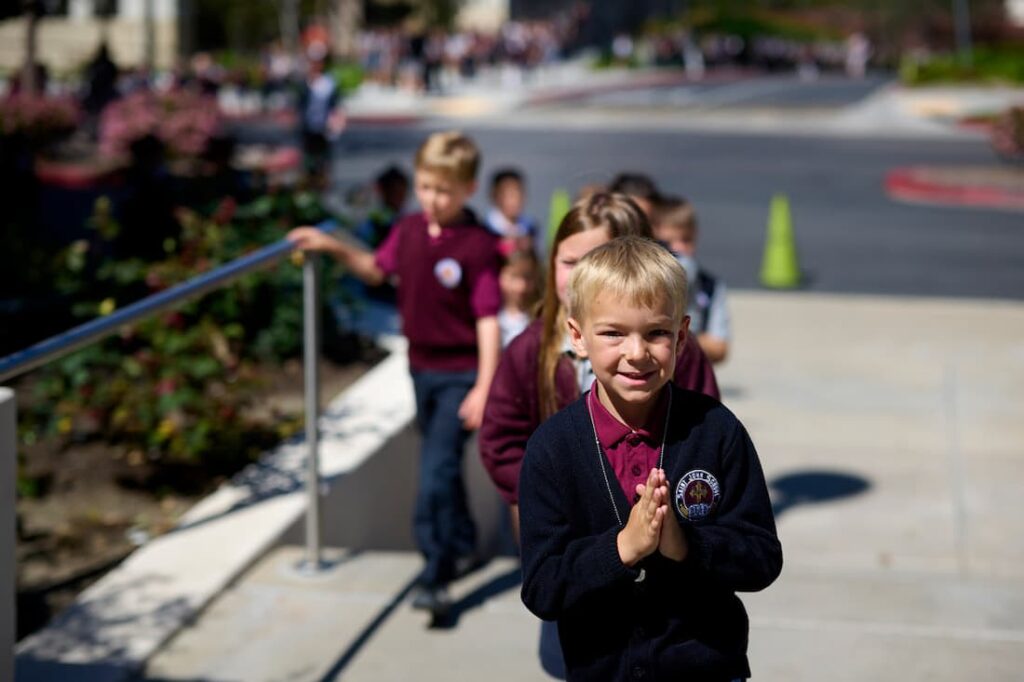 Saint John School
At A Glance
---
534
Students
25
Students per Class,
2 Classes per Grade
70%
Students moving on to Catholic High School
23%
Racial and Ethnic Diversity
completing the vision
Our History
1957-1961
Saint John School first opened its doors next to the original church on 2nd Street in Leucadia on September 10, 1957, with 182 students. Benedictine Sisters from Oklahoma served as the teaching staff. The buildings were purchased from government housing units at La Jolla Junction. The Benedictine Sisters remained until 1959. The school was staffed and administered by lay teachers until 1961.
1962-1992
From 1962 to 1992, the school was under the administration of the Saint Claire Sisters. In September 1990, the school moved to temporary modular facilities at the new site in Encinitas on Encinitas Boulevard. Since 1992, the school has been under the administration of a lay principal and staffed by lay teachers.
1998
In the Spring of 1998, grades 1 through 8 were moved from the temporary facilities across the driveway to the new site with kindergarten classes remaining in the parish hall.
2004
Following the success of the parish "Complete the Vision" campaign in the Spring of 2004, after 10 years of temporary accommodations and many moves, the entire school was finally situated in our beautiful buildings surrounding a tree-ringed courtyard. This completed the third phase of the vision.