Saint John School Student Wins Youth Virtues, Valor, and Vision Award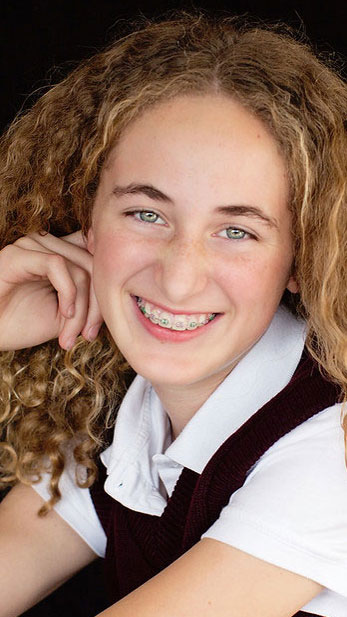 Samantha Armstrong, an eighth-grade student at Saint John School, will receive the 2018 Youth Virtues, Valor, and Vision Award from the National Catholic Educational Association (NCEA) for selfless service, determination, innovation, and ideals that are changing the world.
     "NCEA extends its sincere congratulations to all the winners and to all those who have supported the outstanding service and faith witness of these remarkable young people," said NCEA Chief Leadership and Program Officer, Dr. Barbara Edmondson. "Young people in our Catholic schools are truly changing the world, one student at a time."
     Samantha Armstrong and nine other winners (eight high school seniors and one junior) were chosen from more than 1.9 million Catholic school K-12 students across the country. Samantha will be presented with the prestigious NCEA Medal of Honor and Certificate at Saint John School by a representative of the NCEA or Cross Catholic Outreach. She will also be featured in the next issue of
Momentum
, the NCEA national magazine.
     "Drawing upon her own educational experience, Samantha's story will help many other students overcome similar challenges. Sharing her story is a selfless act of courage and faith that will truly inspire all who read it," said Mr. Dan Schuh, Saint John principal.
     Samantha was nominated by the Saint John school staff because of her project to help dyslexic students navigate the demands of school. When Samantha discovered she had dyslexia, she sought out kid-friendly information yet could not find any resources. So, she decided to create a series of books. The first, entitled
Brain Town
and geared toward elementary-age students, has now been published, and she plans to write and illustrate at least three more: one for older students, one for parents, and one for teachers. She has also begun sharing the completed book with other children facing similar academic challenges.
     "The book series could basically go anywhere," said Samantha, who is Student Council President at Saint John School. "I hope it will help parents and teachers understand more about students and also help students find tips and tricks as they go through the experience of dyslexia."
     The awards program was created by the NCEA and sponsored by Cross Catholic Outreach.
---