Kindness Rules in 5th Grade!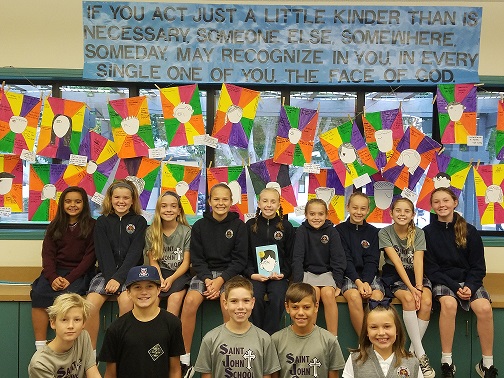 Saint John School 5th grade students have been discovering the power kindness. They have been enthralled with reading the book, Wonder by R.J. Palacio.
The book tells the story of a boy with facial differences caused by a rare genetic condition who enters 5th grade after being home schooled. It deals with the community as they all struggle to discover their compassion and acceptance.
To wrap up their unit on the novel, the students each drew themselves similar to the artwork on the cover of the novel. Then, they wrote out sentences about what kindness is to them and wrote their own precept/motto to live by. Their projects turned out beautifully!
Here are some inspiring lines written by the students:
Kindness is what connects us.
Kindness is no effort.
Kindness is playing with a different friend.
Kindness is helping the teacher get 30 kids to listen.
Kindness looks like heaven.
Kindness sounds like giving someone a compliment.
Kindness is extraordinary.
Lauren Logan, 5th grade teacher, shared her favorite quote from the novel and encouraged her students to take it to heart:
"If you act just a little kinder than is necessary, someone else, somewhere, someday, may recognize in you, in every single one of you, the face of God."
---