4th Graders Enthusiastic about Thanksgiving Outreach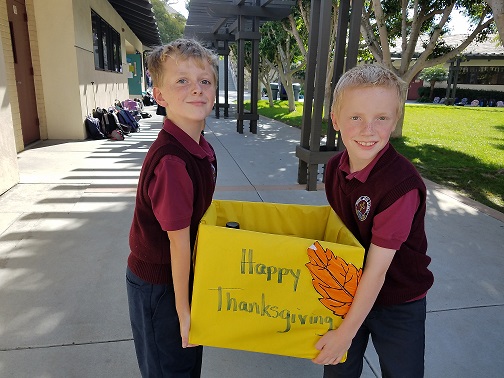 For two weeks, the Saint John School 4th graders have been enthusiastically supporting their Faith in Action Thanksgiving Outreach project for Brother Benno's, a non-profit, all-volunteer organization that serves the poor and homeless in the North San Diego County. The students' hope was to collect enough Thanksgiving food to give to 40 families in desperate need.
The students assigned particular food items to the various grade levels to be sure to have enough mashed potatoes, gravy stuffing, green beans, cranberries, bread mix, yams, corn, and apple cider to fill the 40 boxes. Additionally, they invited all families to contribute hams to include in the Thanksgiving dinner boxes. They created signs to hang up in classrooms to remind students to support the outreach. When asked about the project, Tyler V. said, "It was a good opportunity to help the hungry."
The 4th graders' enthusiasm was most noticeable during drop off and dismissal times. They cheered and chanted while holding up signs to remind parents about the outreach. Their efforts paid off. Not only did they reach their goal, but they exceeded it in a big way! They collected enough food and hams to fill over 50 boxes. They even received 30 extra hams to help additional families in need.
Fourth grade teacher, Debbie Quinn, said, "I am extremely proud of the entire 4th grade and how they came together to put their faith into action!"
---