Red Ribbon Week at Saint John School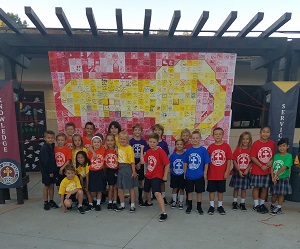 Saint John School students kicked off Red Ribbon Week by creating a banner commemorating the 2017 National Red Ribbon Week theme, Your Future Is Key, So Stay Drug Free™. Each student created a small square of the banner which was assembled to represent a key. On the squares, students made their pledges to lead a healthy lifestyle and to stay drug free.
Student Council members set the purpose for Red Ribbon Week at the Monday assembly. They created daily themes and encouraged students to participate by wearing special dress on each day of the week. For example, on Monday the community wore sports jerseys to support one another as we "Teamed Up Against Drugs." On Tuesday, students and staff wore mismatched clothing as a reminder to "Not Get Mixed Up with Drugs."
Additionally, Student Council members guided each class in creating decorations for their classroom doors to further emphasize the goal to remain healthy. They also instructed the students on the history of Red Ribbon Week by sharing the story of DEA Agent Kiki Camarena and his battle against illegal drugs.
Middle school students attended an assembly presented by local high school students. At the assembly, the high school students shared their stories about leading healthy lifestyles as well as their personal reasons for choosing to not use drugs.
Saint John School shares int the mission of the Red Ribbon campaign, which is to lead and support our nation's families and communities in nurturing the full potential of healthy, drug free youth.
---