RockStar Band Enrichment Gets Ready for House of Blues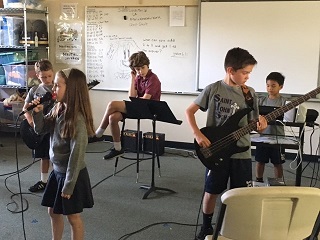 Saint John's newest after-school enrichment class, RockStar Music Education Band, has been a HUGE hit. This enrichment is broken down into two separate sessions that run from 2:30-4:30 p.m. The eleven students who signed up have had the opportunity to learn to play guitar, bass, drums, and keyboards; compose their own songs; and learn to play classic rock'n'roll hits. These students in grades second though seventh will have the opportunity to showcase their talents live on stage at The House of Blues on June 6th.
Their instructor Brian Deschambeau has helped them in the last ten weeks to enhance their skills and deepen their interest in music as they express their unique creativity and embrace the benefits of music. As he states "Our RockSTAR students here at Saint John School have done a brilliant job of rehearsing in preparation for the big showcase at The House of Blues on the evening of Tuesday June 6th. We are so proud of the hard work that these kids have put in to make their performance truly amazing! Everyone is invited to come to the show to support our children. Doors open at 5PM. New RockSTAR classes will begin this fall. Our music class is open to all students 1st grade and above. No experience necessary."
The school first found out about this program through the Esquer family as their son was already involved in it. They stated, "Rock Band provides an opportunity to play music and experience what it's like to be in a band–teamwork, practice, and tons of fun!!!" This explains why their second grader Drake is enjoying the program and committed to doing his best work. "They teach really fun music!" he exclaimed. "It is really cool that we learn about instruments. I play the bass and my friends play other instruments." He is really excited, as are the other students who also look forward to their live performance next month.
---