Mary Honored at May Crowning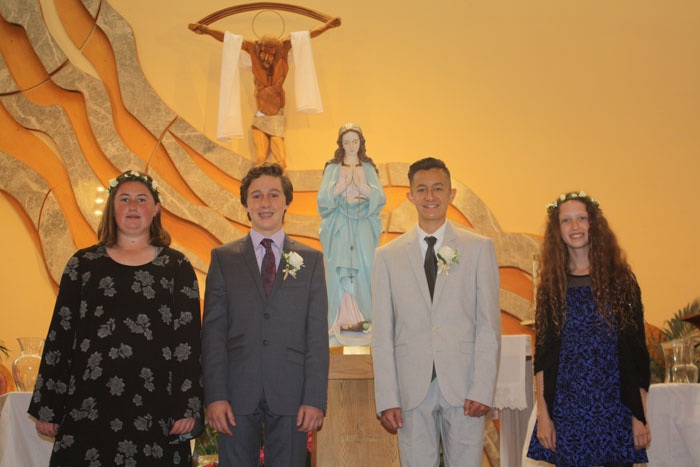 By Emma Velchek, 7th Grade Journalism Student
A long-standing tradition here at Saint John School is the May Crowning, which celebrates Mary and her dedication towards God and others. The service was celebrated May 2 at the Saint John Parish church and attended by the whole school and many parents.
The service included hymns, prayers, and readings by essay contest winners.
Every year all the students write an essay about their mothers and Mary. The prompt given to the kindergarten and first grade students was "How is your mom like Mary?" The second and the third-grade students' prompt was "How do you honor Mary in your everyday life?" The fourth and fifth grade students had "We celebrate our mothers one day a year. We celebrate Mary one month a year. Should this be the only time we thank them? Why or why not? What does your mother and Mary do to deserve this gratitude?" Finally, middle school's prompt was "Mary devoted her entire life to Jesus. How does your mother do the same for you?"
This year's winners of the contest were fifth grader Megan H., kindergartner Mirah L., first grader Madison D., third grader Sebastian P., sixth grader Sophia G., and eighth grader Austin M.
The May Crowning was like the previous year. The eighth graders were able to wear their dresses and suits, and the third graders wore their first communion dresses and suits as well.
The May Court included Braeden F. and Sophia P. from Mrs. Amy Jones' class and Christian G. and Mia H. from Mrs. Jenae Smith's class. These four people were elected by their classmates by being kind-hearted and having the most characteristics of Mary.
---