Saint John Middle School Rocks Spring Sing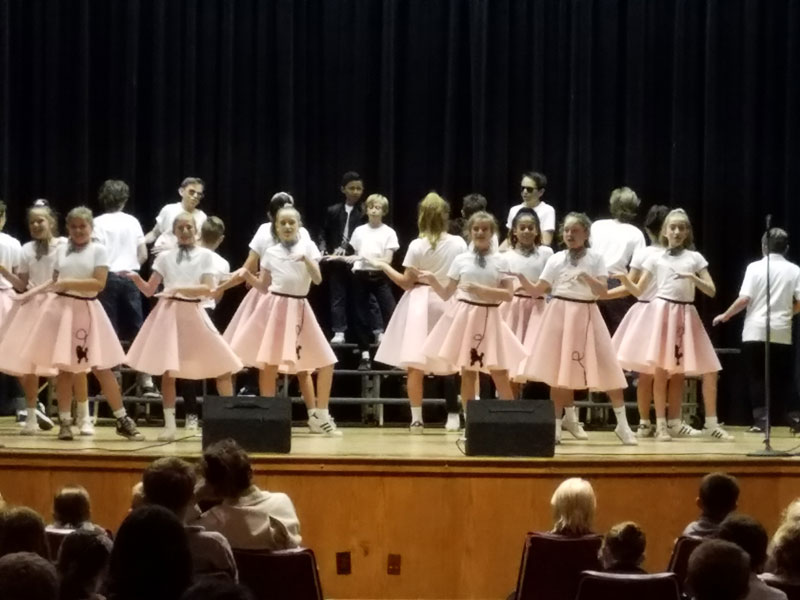 The Saint John Parish Hall was rocking during the annual Middle School Spring Sing.   Originally designed to foster teamwork and cooperation among the 6th through 8th grade students, the Spring Sing has become a fun and spirited musical competition.  Students are able to share their creative gifts and talents with the community.
Each year, a theme is selected by the music teacher.  Then, each middle school homeroom class selects their song, choreographs their routine, and plans their costumes.  Sixth grader Sophie H. said her classmates "worked really hard, but it was worth it!"
When asked about the toughest part of the competition, Summer H., Lily G., and Sophie H. all agreed that cooperating with classmates could be difficult at times.  They remarked, "Some students would like the moves we planned and others wouldn't.  We had to compromise."
This year's theme featured music from the 50's. "This year was one of the best competitions I have seen.  All the students put their heart into their performance," commented Kathy Osborne, school business manager and competition judge.  Principal Dan Schuh agreed, "All the classes raised the level of performance and competition this year!"
The middle school students participated in two performances, one during the school day for the students and teachers and one in the evening for their friends and family.  Judging occurred at both performances using two different sets of judges.  Each class was judged in the categories of singing, choreography, costumes, and originality. The scores from each performance were added together to select this year's winner.
The Spring Sing winner was  Mrs. Klenk's 6th grade homeroom with their rendition of Tutti Fruitti.  Looking for her first win, Mrs. Klenk even went so far as to make poodle skirts for all the girls in her class.  "6K showed lots of enthusiasm during their routine," claimed Jill Burke, assistant principal and judge.
Second place went to Mrs. Jones' 8th grade class for their great choreography with Jailhouse Rock.  There was a tie for 3rd place between Mrs. Heins 7th grade and Mrs. Mohan's 6th grade homerooms.
Everyone looks forward to Spring Sing each year.  It really is a fun event!
---