Congratulations, Science Fair Winners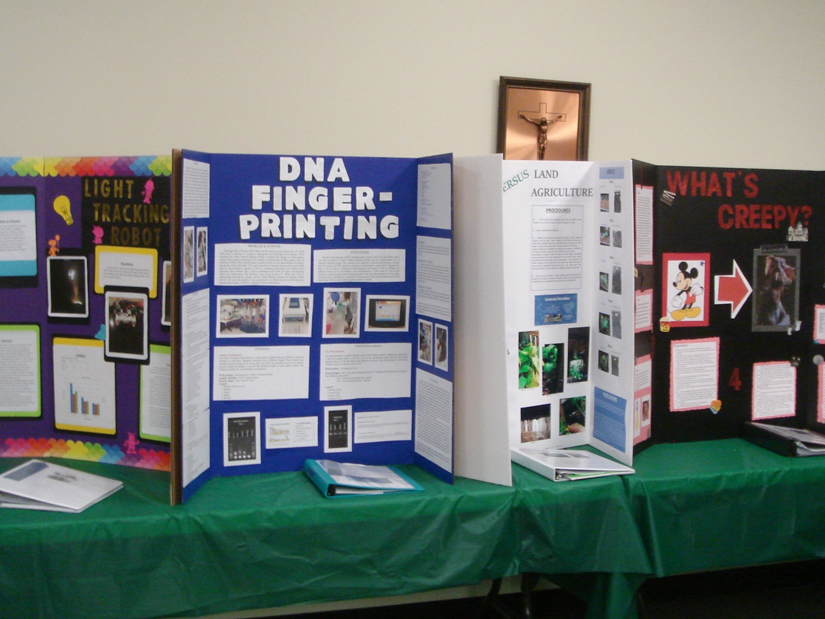 We wish to congratulate the following students who won awards at the Greater San Diego Science and Engineering Fair on March 14-19:
2017 Science Fair Winners
Saint John School winners at the Greater San Diego Science & Engineering Fair on March 17, 2017:
1st Place
Daniella Luciani: Electrical Engineering (Light Tracking Bristlebot)
Amanda Hansen: Plant Science (Effects of Sunscreen on The Ocean's Macroalgae)
2nd Place
Samantha Armstrong: Mechanical Engineering (What is the Best Structure to Survive an Earthquake)
Austin McMahon: Physics (How the Strength of a Magnet Varies with Temperature)
Isabella Palmer: Behavioral Science (What's Creepy? Testing the Uncanny Valley)
Heidi McArdle: Biochemistry Plant DNA Extraction
Savanna House: Behavioral Science (Does the Human Eye Think?)
Jake Titcomb: Engineering and Materials (The Sound of Silence)
Thomas Salzar: Biochemistry (Soda Corrosiveness Toward Teeth)
3rd Place
Elliot Gambale: Physics (Car Crash Barrier)
Olivia Hansen: Physics (How Does Drag Affect a Swimmer?)
Megan Kubczak: Consumer Product Testing (Electrolytes)
Bella Towne: Medicine and Health Sciences (Is Sunscreen a Scam or Does it Really Protect from UV Light?)
Professional Society Award Winners
Samantha Armstrong: Building Industry Association Cares
Savanna House: 2 awards from: Hillcrest-Mission Valley Lions Club, San Diego County Optometric Society
Daniella Luciani: 2 Awards from: Association for Women in Science San Diego Chapter USN – ONR (US Navy Science and Technology)/Naval Science Awards Program (NSAP)
*California State Fair Recipient
Daniella Luciani will represent Saint John School and the Greater San Diego Science & Engineering Fair at the California State Science Fair, April 24-25, 2017, which will be held at the California Science Center just south of downtown Los Angeles.
---